1.17 event executive committee, chairperson & FMYY volunteer staff: Kanji Wada, / FMYY volunteer staff: Shigenobu Kadota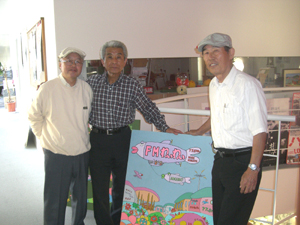 Talk 1
Wada: I am on a couple of FMYY programs, Saturday Express, Afternoon Nene and a program presented by Hyogo High School OBs, etc. It is interesting having all kinds of characters on the shows.Kadota: I don't talk on the programs, I do the mixing. Like Mr. Wada, I'm from Hyogo High, too.(Program presenter: Saijo: I have heard from FMYY staff you did some volunteer work in flood hit area of Sayo.)
Kadota: Yes, about a week after the floods, I brought linen material, towels, etc, and after about three weeks I helped with interior repair work of doors, etc. I'm 65 so it was pretty hard on the body, but I'd like to do as much as I can while I can. In fact, doing volunteer work gives me a chance to move around, be active and useful, and I'm grateful for that. I began volunteer work in 2007 at the 1.17 (Jan. 17th) earthquake memorial event when Mr. Wada asked me to help out.Wada: We are the same age and I didn't really want to get older people to do too much, but Mr. Kadota said he really wanted to help out. Originally there were about 6 or 7 OBs, now there are 15 who help with the 1.17 event. I too had a chance to go to flood hit Sayo with volunteer groups from Tokiwa College's volunteer center. I was given a camera and asked to take a photographic recording of the volunteer work. I originally worked in a camera manufacturing company and so I have been taking photographs for a long time. In Sayo, I photographed volunteer workers, their activities, as well as record what the disaster hit area was like. The photographs were uploaded on FMYY's Website and attracted attention. They helped people to know what the situation was like and what volunteer work was like.
My house was totally destroyed in the earthquake, but I managed to get some furniture and other things out of it. But damage cause by flooding is something else, really awful. Although things survive, they can no longer be used. The earthquake hit in a flash, but the damage and remains of flooding remain longer and a feeling of hopelessness lasts longer. It was really pitiful to see this.
Kadota: The clean-up work after a flood is endless. You have to use old toothbrushes to get at the mud caught in small gaps and cracks. Ground floors of most buildings were ruined. I recently went to help distribute aid and that had arrived for the winter with Ms Kanada of START Nagata center and who is on our FMYY Saturday afternoon program. However, recently, she has been in Sayo most of the time and so we do live telephone reporting with her. Volunteers come and go. Some even come from places as far as Nagoya and stay for a long time, up to 10 days.Working at a company and doing volunteer work are completely different. I get to meet lots of different people, learn many things, etc.
Wada: Volunteer work is less stressful. When I was working I had to think what had to be done that day, I was taking notes in the middle of the night. Now, I can sleep well and get up looking forward to the day.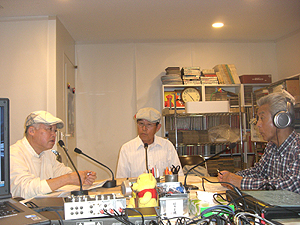 Talk 2
Wada: I have been chairperson of the Nagata 1.7 event executive committee for about 6 years. It started in 1999, the next one will be the 12th, I think. It is a lot of hard work putting on the event, but we get a lot of support from people in their 40s. All kinds of people volunteer to help.
I started volunteer activities after the earthquake. My house had been destroyed and I was still working. I spent the first 2 months looking after myself. But I read in the papers that many volunteers were in the city and felt I should do something. Then on March 13th I joined a group called something like Nagata wo Kangaeru-kai. I was asked to take photos of an event and before I knew it I was doing all kinds of things.
Kadota: I got started in volunteer activities when Mr. Wada asked me to help with the 1.17 event and then at others. And little by little I got more involved. Here at FMYY I got used to using the studio mixer and met young and foreign people, and in other activities I do carpentry and electrical work. I like working with my hands and working with machines.I lived in Nishi-ku when the earthquake happened and was working in the construction business, so I got to do work in the disaster hit area.
Wada: I was still working in Tokyo after the earthquake so I made a few recordings on MDs for my FMYY program and asked the station to use them until I could return to Kobe.15 years after the earthquake, I think good communications within the community are very important for us to be prepared for another disaster. I have chances to talk with junior and senior high school students and I always ask them to remember me and say hello and so on. I tell them to get to know the older people in the neighborhood and help them if they can. Getting to know people on an everyday basis is very important.
Older people should get out more, especially men who are usually shy and tend to stay at home after they retire. They too can do things for the neighborhood, like helping to keep the neighborhood clean.
Kadota: When I was working I didn't get involved in the community, but after I retired I joined neighborhood clean-up activities and got to communicate with my neighbors.
Wada: To prepare for the 1.17 event we visit kindergartens and junior high schools, about 6 in all, to ask for their support. We get people to melt old candles and make recycled candles. On January 17, volunteers gather in front of JR Shin Nagata Station. Last year was a Saturday, this year it is a Sunday, we were worried if many would not turn up, but a good crowd came. From 10:00am volunteers begin to place bamboo sticks placed in the form of the kana for Nagata 1.17. At 5:00pm candles are lit, and at 5:46pm a silent prayer is offered for the victims and at 10:00pm the clean-up begins and takes about I hour. Then we say goodbye and hope we can hold it again the following year.