Nagata-ku Council of Social Welfare Manager: Osamu Hasebe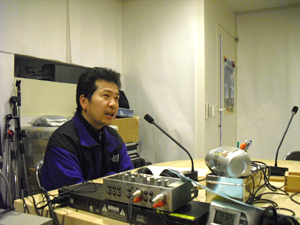 Talk 1
I present a 15-minute program, 'Volunteer Center', here at FMYY once a week introducing citizens' volunteer activities in the ward, and when a disaster occurs, we have on-site reports by our staff. The program's goal is to support citizens' activities.
I was born in Gifu Pref. and was a 3rd student in social welfare studies at a college in Kagoshima when the earthquake happened. When I saw the news of the earthquake at around 8:00 on the morning it happened, it said about 8 people had died. So, I thought it was just another disaster like those we sometimes hear of. But when I looked at the news later that day I realized how serious it was. I got my fiends together and began to think about what we could do. I had my final exams at that time so it was about 1 week later when we left for Kobe. We brought a tent, cooking utensils and care-giving materials with us. We set up our tents on the riverbank near the Ward Office, and started work.
We were fortunate in that our college circle had connections with Kagoshima's Council of Social Welfare and when we decided to come to Kobe, the staff there told us about the situation here and recommended we bring what we needed. In those days, volunteers rarely prepared like that.These days, if a disaster occurs, the local Council of Social Welfare usually becomes the coordinator for volunteer activities and sets up a volunteer center. In those days, there was nothing like that, so most volunteers came to the Ward Office to find out what they should do.I spent about one third of my 4th year of college in Nagata. In summer, one of my main jobs was acting as coordinator for moving people from shelters to temporary housing, coordinating the removal of belongings (checking them, getting transportation and volunteers to help). Prior to that, I coordinated the distribution of aid at shelters.
Not long after I arrived I was also asked to organize a shelter. I had no experience of what a shelter should be, but at that time you couldn't say no. Actually about 30 people in the same situation as me had been asked to set up the shelter. Although we had no experience, we managed to get what information we could and do what was needed. We visited a nearby shelter to see how things were done there, and managed to set out the shelter with space allotted for private use and for common use, etc.
I learned a lot from the experiences then. In my work now I realize it is important to provide volunteers with adequate information for them to decide what to do on site so they can do what is necessary but also allow them to be flexible enough to meet the actual needs on the spot, and if there are things they can't decide they should check with us.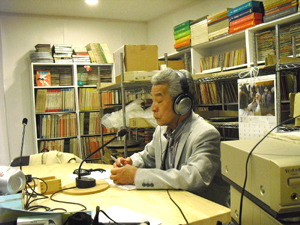 Talk 2
Normally after graduating I would have found work in some welfare facility in Kagoshima or Gifu where I was born, but I ended up here in Kobe working for Nagata-ku's Council of Social Welfare's Volunteer Center. At the beginning I really didn't know what to do. I studied other Welfare Councils work, but felt that Nagata needed something different. One major feature I noticed at the time (1995, 1996) was that most of the volunteers came from outside Kobe. Usually volunteers work within their own living area, so I found that I had to guide people around a lot then. These days, volunteers use the Internet to locate facilities etc and print out maps of the area. It wasn't like that then. Times have changed.
These days volunteers are better prepared and have more up-to-date information on the situation in a disaster hit area than volunteers in those days. They thought that the situation was as they saw it on TV news etc. Most volunteers have real-time information and come prepared, but some don't. For example when the flood disaster happened in Sayo, some volunteers, who saw TV news images of the flooding and mud-filled houses and roads, prepared to work clearing the mud, but when they arrived days later actual needs had changed. Most volunteers really want to help the victims. They feel sympathy for them or identify with them. This sympathy or identification is important.
There are two kinds of sympathy 'sympathy for others, and 'sympathy for oneself'. Having an overly strong feeling one is doing something for others, is not good. One should also feel that one is receiving something from the volunteer experience. I think the people in post-earthquake Kobe need to rethink this sense of 'sympathy'. They should remember that the volunteers who came to help them from all over the country felt sympathy for them when they saw the news of the earthquake. Everyday-volunteer work requires a sense of sympathy for others. If we cannot sympathize with say an old lady who would like to visit her late husband's grave but cannot, we will not feel we want to help her.
There are three things required for doing volunteer activities; the first and essential one is 'sympathy'; next is an understanding of volunteer work content; the third is being satisfied that the volunteer work you are doing is necessary. The volunteer coordinator must try to ensure these three factors are met with the person he receives a request for volunteer work from and the person who offers to do volunteer work.
At the Nagata Volunteer Center we receive requests for help from residents, and introduce new and established welfare and other volunteer groups and build networks. At college we were taught to make networks of groups in similar fields, but here in Nagata we make networks of groups and individuals with similar aims or goals. We also try to get groups who would not normally have any connection, such as children from local elementary schools and shopkeepers in local markets etc.
When we create project teams we allow people who want to do something to join and let them plan things and put them into action. Of course, there are failures, but things that people feel are necessary and want to do get done.