Toshikazu Otsuka, president of Otsuka Bankin Co. Ltd.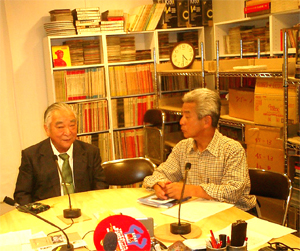 I've been involved in sheet metal work for as long as I can remember, originally for housing, but then for companies. This started when we did repair work for Kobe Steel after its plant was damaged in a typhoon. Although we were still a small company, we receives contracts from major construction companies. Now our main work is multi-floor car parking. I realized there would be a need for such parking because of the increase in the number of cars and bad road congestion. However, after taking on this work, we became too busy to do any other.
When the earthquake happened I was living in Okamoto in Higashinada-ku, and have been always living there. The area had previously been hit by flooding so I decided to rebuild our house using reinforced concrete. That's when the earthquake happened. Fortunately it was built in time and withstood the earthquake, although everything inside was in a mess. It pays to spend a little more when building a house and to look after it after it has been built.
At the time of the earthquake, I was a 'minsei-in' (community social worker).Where I lived was very badly hit by the earthquake, so I went around to check on elderly people in the area. At that time people didn't want to open their doors, but because they knew us they opened up and we were able to check if they were safe and help them get some valuables out. That taught me the importance of getting to know each other on an everyday basis.
It was really difficult at the company too because no large trucks except those involved in disaster reconstruction could get in or out of Hyogo Pref. We had to change our logistics patterns resulting in enormous costs. The more work we did, the more money we lost. But customers' trust in us is very important, so we kept going.
Some things made me really angry then. I saw some people smoking while walking in the neighborhood even though gas pipes were still leaking. It was so foolish and dangerous. Also, some people who could have been saved died in fires. I think we have to think more seriously about the danger of fire. I was using a kerosene stove when the earthquake happened, but fortunately it had an automatic switch-off system.
When the earthquake happened, at first didn't know what happened, but Isoon realized it was an earthquake. Fortunately, my wife was safe. Everything around was still dark, so I when outside and got into my car and switched on the lights and listented to the radio to get some informaiton. Since our house was relatively new we took shelter there; the local school, Motoyama Dai Ni was so badly damaged nobody could enter the building, only the ground could be used.One thing the earthquake taught me was; it is very important for people in the community to get to know each other on a everyday basis.
Michiko Suzuki – Takatori Catholic Church, FMYY- Afternoon Nene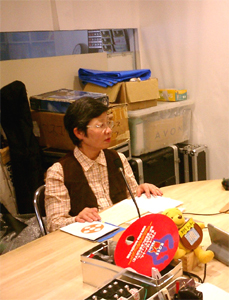 I live in the neighborhood and though my house was damaged in the earthquake, it was not affected by fire. I took shelter at Takatori Junior High for one night, but it was so overcrowded I came back. I left my house as it was and began helping tidy up at Takatori Catholic Church which had become a relief center at that time. My husband who had just retired also came to help out.Although the situation was terrible, so many people came to help. It was wonderful. The place was full of activity. It was, as we say ,the year volunteerism was born in Japan, and I suppose you could say this is where it started. Thousands of people came, some repeatedly. It was like a big family together.
Although the neighborhood has recovered, with regard to community development, there is a need for many people to cooperate. At that time a lot of help came from outside, but there is a need for cooperation within the community. If people don't know each other, they are unlikely to help each other.
I became a member of Nishisuma Danran, an organization in which community members help each other, in order to learn more about community coopertion and support. At Danran we provide services that are not covered by the long-term care insurance system, such as providing meals, and checking if elderly people are OK, etc. Members who require a service pay as small fee and those who provide it are paid a small sum. Group meals are provided at Inaba Plaza where Danran has its office. Beside the Plaza there is a park where children come to play after school. Many of these children's parents work, so having adults around when they are playing, relieves the parents' anxiety about their children's safety. Also the sound of children playing makes the elderly people feel good. They get to know each other. It is mutually beneficial.
I went to the opening of the Paper Dome when it was set up in Taiwan. The area there is surrounded by beautiful nature which gave us an opportunity to think about the environment. There was a village, Chosei Mura, where elderly people in post-earthquake temporary housing lived on subsistence farming, and selling their products at markets. Of course, they received some aid from the government. I think we can learn a lot from this. That is, people doing things for themselves rahther than having everything done for them. At our group meals at Danran, elderly people to help make the meals, and help themselves.I think it is important for different groups; the church, NPOs, NGOs, the local government, companies, academics, and of course the community to work together with NPOs and NGOs at the center.