Home on visit from overseas study when the earthquake happened, and disaster recovery support after completing study overseasKwansei Gakuin University Associate Professor, Researcher at Kwansei Gakuin University's disaster reconstruction systems research center: Kumiko Yamaji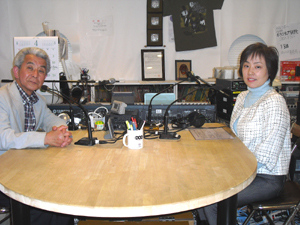 Talk 1
Kwansei Gakuin University's disaster reconstruction systems research center was founded in 2005, 10 years after the earthquake. I have worked at Kobe Gakuin University's Bosai Unit but at Kwansei Gakuin University's research center we focus on post-disaster reconstruction. Prof. Murosaki became head of the center 3 years ago, and prior to that it was Social Studies Department chief Prof. Miyahara. Prof. Yamanaka Shigeki who was formally a reporter for the Asahi Newspaper and did a lot of reporting on disaster recovery when he was stationed in the Kobe branch is also at the center. The center was founded in memory of students who were victims of the earthquake.
I am in charge of a number of things at the center; first of all, international cooperation. There have been earthquakes recently in Chile, China and Haiti. Volcanologist say earthquakes happen all the time, and it just happened that some of these hit large urban areas causing phenomenal damage. Last year, I contacted researchers and related officers in the Taiwan, China and the USA and organized a symposium and network. My research is on gender and disaster reconstruction. There are huge differences in reconstruction experienced between men and women. Many of the elderly people that die in disasters are women. Reasons for this include women's low income, long life-expectancy and low pensions, etc. Damage caused by disasters is often compounded by such everyday factors. It is necessary to improve everyday living standards in order to reduce the effects of disasters.
I was born in Tokyo and because there are many earthquakes there, there is a high level awareness and at elementary school we had head protecting hoods, and had water supplies always ready. But here in Kobe there was none of that.
At the time of the earthquake I lived in Kita-ku where the damage was relatively light and because our house had been built only 1 or 2 years previously there was almost no damage to it. Actually, I had just returned from study overseas to see my elder sister (an opera singer) perform. I had returned a week or so before the earthquake, and was about to return to the Hawaii on the 17th, but wasn't able to leave Japan for about a week.
The experience of being here at the time has helped me have a feeling for what it is like in a disaster. But having been away for a while and coming back to see Kobe recovered has given me the ability to see disaster reconstruction objectively. Experiencing a disaster is important, but when you have to explain about recovery etc. an objective stance is important and that is the kind of experience I have and the role I can play.
For international networking language skills are important. I can speak English, and Korean which I learned when I was in Hawaii and spent a year in Korea doing a survey.
The Ministry of Education, Culture, Sports, Science and Technology had provided grants for research on comparative studies on disaster reconstruction, post-disaster livelihood recovery, etc, in Japan, Taiwan, South Korea, and Louisiana (USA) in which a number of local researchers, including our center are involved in studying the males and females in disaster and recovery. The role of the media is important and we have Ms Chiaki Kin of FMYY involved and other people from the media. Although there were media reports on the earthquake disaster and recovery here, there were none on gender. Society had set roles for males and females and this had certain effects on each. A newspaper article I have here says it was women who lost their part-time jobs before men after the earthquake. This also happens in ordinary times too. 'Pre-disaster reconstruction' (preparing society for recovery before a disaster) is important and this can be done by correcting everyday problems.
Talk 2
I am also representative of a workshop for multiculturalism and coexistence which is made up of 8 members. I became vice chief director of NPO Kobe Machizukuri Kenkyu-sho which became interested in community development and multiculturalism. FMYY and Tabunka Pro Cube had already started activities in this area. I became interested in multiculturalism from my experience of discrimination as an Asian in L.A. and Seattle. While on one hand foreigners are discriminated against, they are also protected by laws and systems in the USA. When I returned to Japan in 1998 I felt there is no system to help the increasing number of foreigners in Japan. So, I formed a group of 8 people – musicians, people in community development, etc. Rather than directing awareness at foreigners, we want to increase multicultural awareness of Japanese people though holding seminars, concerts of foreign music and cooking lessons on foreign dishes, etc, holding about 8 programs per year. We do these activities as social volunteer work and receive grants from the Kobe Machizukuri Rokko Island Fund and receive donations.
I also helped organize a music event for the commemoration of the 100th anniversary of Japanese emigration to Brazil. Brazilian musicians performed to an audience of about 300, most of them elderly people. We also held talks between people of Japanese-Brazilian background and others and noticed many people are interested in getting to know more about others.I have been appointed associate professor at university and am a researcher too. But my policy is that social work (activities) should not be the object of research. This means I am busy doing both. My research theme is the family, for example after the earthquake public collective housing was built and I am studying how this affects how we view the composition of the family. This has nothing to do with my activities, whereas my study of gender and disaster reconstruction is not totally unconnected with my activities. I would like my research to give something to my activities and my activities to my research.
I have written about problems residents of collective housing face. They become more complicated as residents age but there are non-governmental groups that are supporting them. Pets and disasters is another theme of my research. While many people consider pets as members of the family, others don't, so, when a disaster happens, people are sometimes forced to abandon their pets. In Kobe, the veterinarians association and council social welfare acquired land for such pets. I think establishing such a system is important.If I am asked to give a message on how to be prepared for a future disaster, I would choose the phrase 'pre-disaster reconstruction' which embraces almost everything which can be affected by a disaster; one's job, home and human relations, etc. Disasters are caused by nature, politics play a major role in recovery and there is the individual's power of recovery. Making people and their lifestyle stronger on an everyday basis is important.