Chief Director of NPO Hanshin-Awaji Daishinsai 1.17 Kibo no Akari (HANDS): Toshihiro Shiraki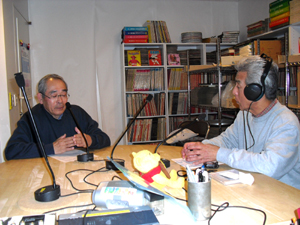 Talk 1
Our group, 1.17 Kibo no Akari (HANDS), made the Kibo no Akari (Light of Hope) in Higashui Yunechi Park and want to share that light and hope. We also conduct walks to visit memorial monuments that have been set up in the region. We started these walks in 1999. And in spring hand out sunflowers which have become the symbol of reconstruction. Our main activity is the 1.17 (Jan 17th) get-together where we give talks to pass on experiences of the earthquake to the next generation.
I lost my son in the earthquake. He was 21 years old and a 3rd year student at Kobe University at the time. We lived in Higashinada where many houses collapsed and fires broke out the following day. I was with him at the time, and so my anger at not being able to help him is greater than my sadness. Why did it have to be my son? Why couldn't it have been me instead? I really regret not being able to see him. It took me 4 years to come to terms with the loss of my son. The change happened when I went to a memorial service held at my son's university and met someone who gave me some light and hope and it was from then on I began to get involved in these activities.At first we decided to make a map for monument walks. However, we wanted to get permission of the bereaved family members. If one person refused, that monument was cut from the walk. It was through meeting that person and other victims' families that I realized that I wasn't alone in my loss. We understood each other. My late wife looked forward to these walks and meeting people.
Some people preferred not to have their deceased relatives' names on victims' monuments, while others did. Until 2003 only the names of victims from Kobe City could be engraved on the main monument, but in December that year this was extended to those outside the city and later those whose death was disaster related. I was involved in this activity. The names of 6,134 people died in or from the earthquake are engraved on the monument and in the last year another 480 names were added.
The Light of Hope (Kibo no Akari) symbolizes the light that gave hope in the darkness after the earthquake, and to the bereaved families of victims. From 2002, flame from this light is sent to locations around the country and we use this as a chance to extend the 1.17 memorial event and talk about the earthquake experiences. About 70 groups, mostly schools and colleges are involved so we get a chance to talk to young people about the earthquake.
Talk 2
I took part in the new corner set up at the recent Luminarie event to talk about the earthquake. I personally had a chance to talk 3 times and went to the site everyday to introduce the other speakers. I talked about my son, the day of the earthquake and my activities since then and when I went to help after the Joetsu earthquake. We have wanted to get young people involved and eventually got students from Kobe Design University, Kobe City College of Nursing, Osaka College of Music and Kaisei Women's University to join us. Osaka College of Music students perform for us during our talk intervals. This collaboration got started when we were asked to give talks at Kobe Design University. We gave a series of 8 talks in the evening and were able to interact with the students. The students thought these messages should be passed on to more people and so they decided to join our activities. The event at the last Luminarie was the beginning and we hope to continue in the future if possible. However, it is difficult to get people to talk about their earthquake experiences. If there are 10 speakers, there will be 10 different stories to tell, different memories and recollections of what happened.
I personally have been giving talks about my earthquake experiences for 16 years. Looking back, I don't simply feel I survived, I feel I was allowed to survive, so I feel I should do something. I would like to be able to say to my son when I go to meet him that I did what I could while I was here. I think it is important to act as a bridge between those who have experienced the earthquake and those who have not. And in feeling that I have been allowed to live, I think I can also teach people about the importance of life, the happiness of being alive. There is a lot we can do while we are alive and I would like people to realize this. Unfortunately there are many sad things like suicide and murder happening, and by right they shouldn't. I would like people to think more about the joy of being alive and I think we can help do this through talking about our earthquake experiences. It is important to remember that we are not alone. Someone needs us and we need someone. So we should talk and try to help each other.
A number of groups participate in the memorial event at Higashi Yuenchi Park on January 17. The main group is Kobe Shimin Koryu Kyokai, and a group from Wakayama as well a group that supplies hot food for people from abroad and there are people who prepare for the event and clean up after it. Exchange among the many groups that are involved, including many young people, is an important. We'd like to see more young people join. The bamboo that is used to hold the 30,000 candles is later made into charcoal. Some of this charcoal is sold and the income used for funds for the event.
In one way I feel the last 16 years have been very long, yet in another they have flown by. Sometimes on January 16th and 17th I get flashbacks to what happened 16 years ago. This is a burden I, like other people, must carry. Through my activities I feel the load of my burden is lightened, though never taken away completely.