Yasuko INADA – FMYY Intern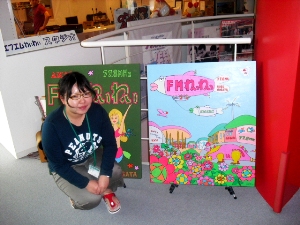 ■Internship at FMYY
I studied disaster prevention education in Kobe Gakuin University's Disaster Prevention/Social Contribution Unit. I have been here at FMYY since my third year at university when I began my internship.
■The reason I began to study disaster prevention education
The reason I began to study disaster prevention education happened to be a lecture I received in my first year at college. I heard the story about the large clock in the university's Arise Campus (Nishi Ward, Kobe). The clock originally belonged to Akashi city's planetarium. I felt there are many things around us and things we can learn about the earthquake disaster. I wanted to learn more about Kobe and more about the earthquake disaster.

■My college days
In the Disaster Prevention/Social Contribution Unit, we listened to people who had experienced the Hanshin-Awaji Earthquake disaster and did practical studies outside as volunteers. We also made disaster prevention educational materials, and held lectures with these materials at schools, etc.
■Connecting school subjects and disaster prevention
Since few elementary schools have 'disaster prevention' as a school subject, we made educational materials that connect all school subjects with disaster prevention.
I thought up educational material for fractions using a quiz connecting calculating fractions and disaster prevention. Even though disaster prevention wasn't presented in detail, I thought up a way to use knowledge about mathematics and fractions as a hint that would lead to answers. Since children don't usually get a chance to learn about disaster prevention, they found this very interesting.
■To the Tohoku Earthquake disaster-hit area
I have had two opportunities to go to the Tohoku disaster-hit area. The first time was in late March when I rode the 'voluntary plaza bus' to Matsushima-cho in Miyagi Prefecture. Matsushima-cho is famous for Matsushima which is considered as one of Japan's top three scenic spots. I went as a volunteer to clear out mud from homes located in the bay where Matsushima sightseeing cruise boats tour around. I heard that the tsunami had reached above floor level there.

■To Matsushima-cho
Eight students from my university went together to Matsushima-cho. There were about 30 people on the bus, and not all of them were college students, there were ordinary citizens, too.
It was my first experience to clear mud. Since boats had been washed ashore, oil was mixed in with the mud making the surface very slippery. Because I was feeling pretty high as I went about doing my activities, I didn't notice that it had begun to snow. However, I noticed it a little later. When I think of it now, it was probably very cold then.
■To Otsuchi-cho, Iwate Prefecture
I went to Otsuchi-cho in Iwate Prefecture on the NPO Sakura Net's program. In the program, students from the Kansai area and students from Iwate cooked 'takoyaki' (octopus dumplings) and played with the children so that everyone could have fun. We took an overnight bus and held our activities there for 2 days and returned on an overnight bus. Unfortunately, on the first day, the weather was bad, but we prepared for the main events. We made flyers for the 'takoyaki' event and delivered them in the temporary housing estate, and we prepared for playing with the children.

■The 'takoyaki' event was a success?
Maybe because the hot cooking plates were new, we couldn't cook decent 'takoyaki' dumplings, so we became a little worried. Although a line of people waiting for 'takoyaki' had formed, there were no complaints and the people waited patiently. In the end, we were able to cook nice round 'takoyaki'. The people also looked at those of us who still weren't able to cook them. So, we were all involved and everyone seemed to be happy and had a good time.

■Do what you can do as best as you can
In the beginning, on the bus my companions and I were wondering "Only cooking 'takoyaki'. What's the point in just cooking 'takoyaki'? " I later realized that by doing our best to cook the 'takoyaki' and doing our best doing what we could do would leave some impression.
As for myself, I have no special skills, and have no confidence in any particular field. However, if you have the desire to do something for someone, I am sure that that feeling will reach the receiver. Anyway, if you are in doubt, just do something and you will feel something, I believe.