Kaoru HASHIMOTO – Kobe City, Civil Servant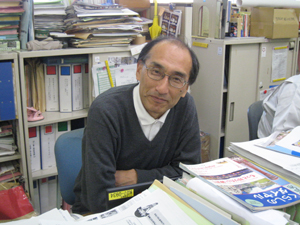 ■When the Hanshin-Awaji Earthquake disaster happened
I was working in the Nishi Ward Office when the Hanshin-Awaji Earthquake happened. I was involved in various duties: inspecting damaged houses, being in charge of evacuation shelters, visiting temporary housing, etc. The year before, I was working in Nada Ward in the welfare office doing welfare assistance work, and was very worried about the people I took care of. Between my official works, I took time to ride my bicycle to Nada to see how things were. There was almost nobody in the welfare office. I went to the temporary morgue (set up in Oji Sports Center).The names of 5 people I had taken care of previously were listed there.

■A woman who visited me in the middle of the night
A woman whose father was laid out in the morgue came to visit me. Her father's corpse was badly damaged. It seemed she lived far away and wanted to see her father's corpse but she and relatives would return to the countryside the following morning. This would be the last opportunity to see her father she thought, and that's why she rushed here. I thought it must have been very painful for her to have a reunion after so many years with her father in this way. I spent some time listening to her story.
She had brought a couple of incense sticks with her. However, there was no incense stand. A person nearby, suddenly said, "You can stick them in this" handing her a mandarin orange. She then paid her final respects to her dead father. There were other people who also prayed together with her for her late father, causing her to shed tears of happiness as she left. I will never forget this. It was an experience of knowing that having someone with you is supportive.
■Irritation at 'officialdom'
We were able to get the use of a crematorium in another city on condition that a permit for cremation was obtained. And we were to bring 30 bodies there by the following morning. I went around to meet the deceased people's relatives, and met an elderly man who had lost his wife. Since he didn't have a permit for cremation, I had to go to Kobe University to get a certificate of postmortem and then go to Nada Ward Office to make and official report of the death.
I had an argument with a colleague over 'corpses without a cremation permit couldn't be on the list'. I had an employee use a bike to go around and we got the necessary procedures finished by dawn.
For the dead, although I had thought I had done my work properly, apparently I hadn't. Without compromising, I decided to speak out and say when things were wrong. In front of the bereaved I said, "Say what you want to say, I will do what you want." There were reasons and circumstances for what the bereaved relatives said, and without understanding these and saying "that can't be done" is not right.
■'Kobe no fuyu wo sasaeru kai' (Kobe winter support group' activities)
'Kobe no fuyu wo sasaeru kai' was established between autumn and winter in 1995 because it was felt that it was wrong that immediately after the earthquake homeless people were not considered victims of the earthquake and were excluded from receiving support.
When I attended a support group for foreigners, the question was raised, "Is there anyone who knows a lot about support for the homeless, welfare support and welfare?" and that is how I got involved in these support activities.
■Nobody is born homeless
Everyone has a hometown, memories and dreams and hopes for the future. But for some reason, some people lose their home and end up living in parks or in railway stations. They don't do this because they want to. I think there is a lot of misunderstanding about these people.
■Changes in the homeless
Around the year 2000, we prepared about 500 meals, however, this year (2011) we cooked between 200 and 250 meals. Although the number of people sleeping in parks has decreased, this is not something to be happy about. As the phrase 'Net Café Refugees' suggests there are people who do not have a fixed home. The surface of the problem has changed and the real problem has become more difficult to see.
■Youths attack homeless incident
Society seems to be giving youths the message that 'homeless are useless people'.
When the earthquake disaster happened, these people didn't receive emergency food or supplies, and were told to get out the evacuation shelters they were in. Although the reasons were different, both (earthquake victims and homeless) had lost their homes. I thought it was wrong that these people should be excluded from support policies and that is why I got involved in these activities. Many of the homeless had supported society until recently, but because of the economic depression they were left without income and were forced to face the situation they find themselves in. The fact that society can not see this is a problem.
■Lessons and regrets from the earthquake disaster deep in the heart
There are many things we need to do for the Tohoku earthquake disaster. I would be happy if people put the lessons and regrets of the Hanshin-Awaji earthquake disaster deep in their hearts.