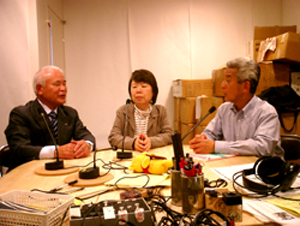 Crisis preparedness on an individual level
Takaichi OKABE –
Director of Matsubara Linen Supply Co., Ltd.
■When the Hanshin-Awaji Earthquake disaster happened
My company has been supplying linen to hotels for 30 years. We had 2 factories in Nishi Ward, Kobe. The older factory was damaged, but not seriously. However, about 20 hotels which were our customers were destroyed, and the economic effect was devastating. There was a period immediately after the earthquake when there were no guests in Kobe hotels, however, as recovery and revitalization progressed the number of guests staying at hotels increased and so there was also a very busy period for us.
■A woman washing clothes in a freezing cold river
After the earthquake, I saw a woman carrying a baby on her back at the banks of a river near our factory drawing water to wash the baby's clothes. Since the company is a linen supplier, I asked her to use the water in our factory. Though there are many employees in the factory, I felt it was very sad to think that only one person noticed that woman by the river.

■Earthquake happened while taking a walk
My wife and I take a walk every morning from our house to Akashi Castle. And on January 17, we set out at about 4:30am on our walk. The earthquake happened as we reached the northern end of Akashi Park. There was a flash of lightening and a loud deep 'gooo' sound from the ground. Old, large trees in the park swung like rods and the water in the large pond shook violently. We got down on our hands and knees and counted about 20 seconds. When we stood up, our legs were shaking and it took some time before we could actually walk.
■Neighborly exchange
Because our condominium was built on a granite foundation, the damage wasn't too serious. Our neighbors' front door wouldn't open, so they escaped through our balcony. Our condominium was a strong luxury resort apartment building, and because of this there was very little everyday exchange between neighbors. But I now think meeting people face to face and developing relationships on a daily basis is important. No matter how good a system may be, if it isn't supported by a good, close neighborly network, it will be of no use.
■Crisis preparedness on an individual level
When I return home and take off my shoes in the porch, I put them facing toward the door so I can slip them on quickly if necessary. And at night, I prepare clothes for the next day and place them close to my pillow or bed. Long ago, these kinds of things were done as a matter of fact, done without thinking. I think this type of simple and basic personal crisis preparedness is necessary.
Handicapped people also can bring out the best of themselves when a disaster happens
Etsuko ISHIKURA – Owner of Kurara Bakery
■Kurara Bakery opened in April, hit by the disaster in January
Half of the original bakery which was in Yamakichi Market was totally destroyed and the rest seriously damaged. While electricity returned at the end of February, water and gas had to be carried to the bakery was which was reopened. And when we resumed business, ingredients were hard to get, so we could make only one kind of bread. It was also very difficult for employees who used wheelchairs to commute to work, so we asked volunteers to help them get to and from the bakery.
Because of urban planning readjustment around JR Shin-Nagata Station, we have moved and are no longer in Yamakichi Market.
■Let's invite 'Tora-san' to Nagata!
('Tora-san' is Torajiro the main character in the popular 'Otoko wa tsurai yo' movie series and is played by Kiyoshi ATSUMI)
People in the neighborhood got the idea of inviting 'Tora-san' to help promote and encourage the reopening of the local shopping street market. Although I had never written to a person in show business, for some reason I was moved and so I wrote a letter to the movie director Yoji YAMADA (who directed the 'Tora-san' movie series) The letter went something like this, "Since the earthquake, shops have not reopened in the shopping market. Kurara Bakery is the only light in the market street and this was made possible through the efforts of volunteers from around the country and handicapped people. I just want you to know that there is such a bakery."
■I never dreamt I'd get a reply
4 or 5 days later, a reply arrived, "I will remember Kurara Bakery". And at the end of the Tora-san movie, 'Pan-ya no Ishikura Bakery' (Kurara Bakery) appeared. I really was so surprised. Since I wasn't told about the appearance of the bakery in the movie, I didn't know about it until the day before. All the staff took a day off work to go and see the shooting of the scene. I also got a chance to thank the director. I was also invited to the preview showing of the movie. Since then I have met the director once a year
■There is always a place, situation and time for anybody to bring out the best in themselves
Before the earthquake, it was usually the case that handicapped people needed someone to do something for them. However, when the earthquake happened, everyone was a victim. When I thought, 'what can I do?' Of course, 'make bread.' I thought. We made bread and distributed it at evacuation shelters, and helped people from the shopping street with open-air soup and food cooking. It was through these activities I became confident in knowing that there are things we can do.