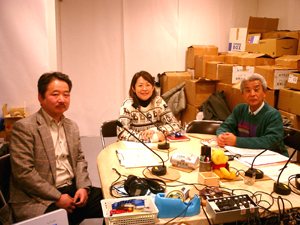 A stranger nearby can be better than a relative far away
Yasumasa SAWADA – Chief Priest of Yuzuruha Shinto Shrine
■Yuzuruha Shinto Shrine (Higashinada Ward, Kobe)
Yuzuruha Shrine is located between the Hankyu Railway Mikage Station and JR Sumiyoshi Station. After the Hanshin-Awaji Earthquake disaster, many people walked through its grounds during commuting time.
The main gate or Torii and shrine office were leaning sideways, and were almost in a state of total collapse, and all of the stone lanterns had fallen over. Fortunately, the main hall and hall of worship of the shrine were safe, and through the cooperation of many people, they were able to be used as place for the community's activities.
■Higashinada an area that suffered terrible damage from collapsed buildings
About 130 people died in the 8 community blocks in the area. Recovery from the earthquake disaster in Higashinada was fast, with most of the recovery completed by the tenth year after the earthquake. When I came to Nagata where urban readjustment had taken place, the number of vacant lots was noticeable. And I was surprised at the regional disparity within the same Kobe city.

■Relationships and connections through the festival
Various duties were allocated to members of the organization that is responsible for the 'danjiri' (large portable shrines, often on set of wheels) used in the local festival. Through this organization, elderly, middle-aged and young male members in the community seemed to know each other well. And even though conditions were difficult, community activities were properly conducted. I think that since meetings had been held on a regular basis, excellent communication between the communities was possible.
■Support from around the country
We received around 500 Shinto priests to support us after the earthquake. With the shrine as the center of activities, many people came between January and April.
■A stranger nearby can be better than a relative far away
There are about 400 large apartment buildings in Higashinada. There are also many luxury apartment buildings, with one floor containing only 2 large apartments. And since the security system is very tight, nobody really knows who lives in them. Exchange between people in the communities has become very weak. So, having regular exchange and communication within the neighborhood is very important. I would like the people in the community to communicate not only when a disaster occurs, but always.
The fact that I did not experience the earthquake means there are things I can do
Tomoyo KAWAIKE – Coordinator at JICA Hyogo Disaster Reduction Learning Center
■Born and reared in Kobe
My father's parents' house is in Nagata, Kobe, so I have been familiar with the area since I was a young child. When the earthquake happened I was in the Ivory Coast in West Africa with JICA as a Japan Overseas Cooperation Volunteer. JICA, or the Japan International Cooperation Agency, uses Japanese government official development aid to train personnel in developing and undeveloped countries. Using my experience as a piano teacher, I taught music at a music school there.
■Felt uncomfortable being alive
I learned about the earthquake in the morning of January 17th local time (8 hours behind Japan). The local JICA office told me to contact my home. However, I couldn't get through on the phone. Still not believing what had happened, I went to the JICA office and saw what was happening in Kobe on TV. The CNN news showed scenes of Nagata burning. I was living with a volunteer from Yokohama, so I gave her parents my relatives' names and asked her parents to check on their safety.
■Returned home temporarily in July '95
Nagata was vacant as far as I could see. It was as if I was looking at it in a dream. Six months after the earthquake in the disaster hit area, my relatives and friends where saying things like "it was like this then", or "like that then". I began to accuse myself, "Why wasn't I there?" Everyone had such terrible experiences and I didn't know about it, I didn't have those experiences.
■Even though I didn't experience the earthquake, maybe there is something I can do
A friend of mine said, "It was fortunate you didn't have that terrible experience, it was fortunate you weren't there." These words saved me.
We often hear the words, "We can't forget the earthquake." Many people lost loved ones, and many people want to forget the earthquake. The terrible event cannot be expressed in the few words of "We can't forget the earthquake."
The very fact that I did not experience the earthquake makes me feel I must bear the role of passing on what should not be forgotten.
■Telling the world about Kobe's experience
At present, I am training people in the field of disaster prevention and management from developing countries where many natural disasters occur. I believe that letting the world know about my experience and Kobe's experience will be of use.