Setsuji KAWAI – Chief of Secretariat, Noda-kita Machizukuri Kyogikai (community committee)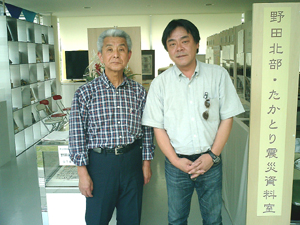 ■Born and reared in Noda-kita
It was here (in Nagata Ward) that I experienced the earthquake. My company's building and house were partially damaged. I can never forget having to take the dead bodies of people who used to say 'Good morning' every day from collapsed buildings. I felt 'I have to live to make up for the lives those people lost, and make the community a better place'.
■'Machizukuri Kyogikai' (community committee) established 2 years before the earthquake disaster
Recovery in the Noda-kita area was faster than other areas of Kobe, and was first in the city for urban readjustment. Agreement between residents and city administration was difficult. At the time, although there was an anti-administration mood in Kobe city, in Noda-kita, since both the community and the administration (Kobe City) were victims of the earthquake we had to get along, so we worked well together. Specialist consultants were involved and it was important that a local community committee like the Machizukuri Kyogikai was involved.
■A community where 4 generations live
In the local Daikoku Park you can see old people sitting on the benches, children running around and young mothers pushing their baby buggies. Although the original goal of the Kyogikai committee was that 3 generations could live together in the neighborhood, instead of 3 generations, there are now 4 generations living together. Because of the speedy recovery from the earthquake disaster, many young people entered the neighborhood. Although the earthquake itself was a very unfortunate thing, the disaster brought some good fortune; problems related to decrepit old housing, elderly people and housing environment were solved, and we were able to proceed towards making a community that could stand up to a disaster.
■The church that became a center of activity for volunteers
The priest of the church (Takatori Catholic Church) opened its doors allowing it to become a center for volunteers and their activities. Volunteers weren't excluded; they worked together with the community. Foreign people were also involved in the activities, and that link between all parties continues today.
■Fukko-tai 'Yume Hikaru Machi'
The local people got together and formed the music group Fukko-tai, wrote the lyrics, composed and arranged the music for their original song 'Yume Hikaru Machi' (City Lit with Dreams).
(Lyrics of 'Yume Hikaru Machi'(City Lit with Dreams)

On the burnt land where everything had been lost, only despair and stress remained

With nature as your opponent, you are helpless; this dilemma made me cry

Since then, days and months have passed slowly and everyone's work to rebuild the city began

Before long, sunflowers in the bunt land began to bloom, dancing in the wind telling us to cheer up

Let's create a new city, a city that fosters dreams

Let's build new roads, roads the lead to the future

Opening the doors of our hearts, let's create a city lit with dreams, Kobe

Soon, in vacant lots the sound of earth being move is heard, all kinds of houses being built

Smiles retuned on everyone's face, as they marched on to the future
Though anxiety still remains about the future, now is the time for perseverance

Before long, cosmoses began to bloom throughout the city, pretty smiles danced in the wind

Let's create a new city, a city that fosters dreams

Let's build new roads, roads the lead to the future

Opening the doors of our hearts, let's create a city lit with dreams, Kobe …
■Takatori community center's earthquake disaster materials room
At the center there are video materials to look at, and guides to show visitors around the area for those who come to study or those on school trips. Since there are things which can't be explained in words only, it is fortunate these video recordings of the disaster remain.
■Noda-kita hometown network
We provide a place for networking. We provide a place for groups from within and outside the area that are linked in a very flexible way to meet once a month to exchange information. If top members of each organization, as well as ordinary people and people from the local government exchange information, there will be fewer clashes and each will cooperate in a positive way. Things to be done in the community, noticing these, and noticing them and doing them or not depends on the people. I think there are probably more people who if they notice something will do it in our area than in other districts.

■If a major disaster happens …
First, you have to survive; if you survive, you can help others. However, that is based on the premise that there is a relationship of knowing each other. If you have friends in the neighborhood or at work, the chances of someone helping you are higher.