Kiyomi HATA – Kobe Tokiwa University, Faculty of Health, Department of Nursing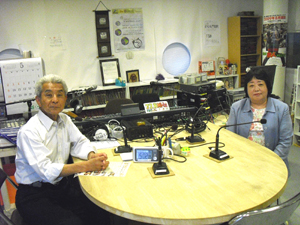 ■Nursing experience and education
I worked as a nurse for 5 years, and I am now in my 26th year as a teacher. I think the place where a person who has felt the value of nursing and can pass that on is in education. Looking back over the last 26 years, I think the students' feeling for people, etc. hasn't changed. When students go to do practical studies, they learn many things from patients. When they wash their feet, they don't just wash them as if they were feet washers. Having the feeling that one is touching on that person's life is important. I would like the students to feel that they are washing hands and feet that have worked hard.
■At the time of the Hanshin-Awaji Earthquake
When the Hanshin-Awaji Earthquake happened I was in my 11th year as a teacher in Nagata. I had moved to Kakogawa a week before (the earthquake). It was the examination season at the time and for nursing it was also the time for the difficult national nursing qualification examination. My first thoughts were for the students.
I came to the college from Seishin (West Kobe) by car, and went around by bicycle to check the safety of the students. In the whole college, 2 students died.
■Going to and from Nagata and Kakogawa every day
The conditions when I went to work in Nagata were severe. However, when I returned to Kakogawa, things returned to normal. During that period, commuting to and from Kakogawa and Nagata was really tiring. From that day until today, I have been thinking about how I can get across the experiences of the disaster and what was learned from it to people who have not experienced it.
■Passing on what was heard
Being a nurse and trying to find a way to do this, filling in the gaps, I thought, 'ask nurses to tell me about their experiences of the earthquake and pass them on. In order to not let these experiences be forgotten and use them in education.' I intend to continue to listen to as many disaster experiences and pass them on, and make this my life's work.
I have interviewed 35 or 36 people in the medical field and I would like to introduce 2 of these.
■Hanshin-Awaji Earthquake – A nurse's experience
On January 17, a new life came into the world at our hospital. On the same day, that baby's older sister's dead body was brought to the hospital. At that time, nurses in the hospital looked around the hospital for the prettiest summer kimono and put it on the dead sister. On one side of the mother they lay a new life, and on other one that had passed away, and said to the mother, 'Please spend the night together.' Though the mother cried throughout the night, the next morning, she said, 'Thank you for giving me this opportunity to part with my daughter.'
■Fukuchiyama Railway Line Accident – A doctor's experience
(Translator's note: On April 25, 2005 a railway accident happened when a train on the JR Fukuchiyama Line derailed killing 107 people.)
When the Hanshin-Awaji Earthquake happened, *triage was not in use, however, after the disaster it has been gradually introduced.
The following is the experience of a doctor who rushed to assist in first-aid activities when the Fukuchiyama Railway Line accident happened. If a black tag is attached (to a victim) it means there is no hope for him/her, so, when a doctor saw a black tag, he/she thought 'There's nothing to be done.' However, when a nurse went up to a victim with a black tag, the doctor went to see what she was doing. She was cleaning off the dirt, closing the dead person's eyes and tidying their clothes. The doctor realized that this was care being given.
The doctor also said, "the nurse protected the dead bodies from the media" because at the time there were people from the media who had their cameras aimed at the dead from behind blue plastic sheets used to hide the dead.
Nurses also attached a note of the time a victim died. For that life, for its family, that time is so meaningful and important.
■On site fact-finding interviewing
In order to educate nurses will be able to get people to talk to them about many things, I think it is my mission to think about what kind of education is required.
In Niigata, etc, we interviewed people to talk about the Chuetsu Earthquake. Though the place and time might change, there are both similarities and differences. We have begun nursing not only in hospitals, but go out into the communities, and enquire about out-patients' conditions. We also try to pay attention to using the language familiar to the local people.
■Teacher and student
At last year's Japan Nursing Conference I received a prize for the best research paper. I am also a student in the doctoral course of Kobe University School of Medicine Faculty Health Sciences. The paper I won the prize for was my doctoral dissertation which was a summary of what the essence of nursing is as was learned from the interviews about experiences of earthquake disasters. This was not research for research's sake, but research for practical use, and that's why I did my best.
※* Triage (the process of deciding how seriously ill or injured a person is, so that the most serious cases can be treated first)