Kiyotami YAMADA – FM Miki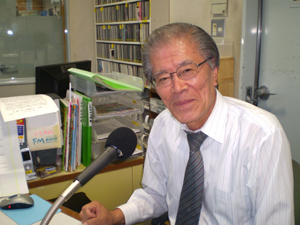 ■Being prepared for a disaster
FM Miki was established in 1996. The local government, etc. put a lot of effort into creating a radio station that would broadcast local interest information. Our goal is to create a station that broadcasts all kinds of local information from around the city, and through this gets listeners familiar with it, and trust it when it broadcasts disaster information and safety information. It is important to keep the city's communities in mind on a regular basis.

■FM Miki and its listeners are like relatives
FM Miki is totally open. There is a casual atmosphere where anyone can open the door and come in. Recently, there are many community radio stations broadcasting 24 hours a day throughout the year. This is necessary if you want listeners to always tune in.

■When the Hanshin-Awaji Earthquake happened
At that time, I was chief of the news production department of Radio Kansai. When the earthquake happened, Radio Kansai's broadcasts were cut for a period of a little less than 15 minutes because of radio wave failure. When the chime for 6:00am rang, we realized 'We can broadcast!' The first words to be broadcast were those of Masami FUJIWARA, "Let's say something". The company's (station's) building was destroyed. Concrete dust flew everywhere, and broadcasting continued from the studio with cracked walls. There were also enormous after tremors.

■By car to the company's station in the Suma head office
On the way down Rikyu-michi road toward the sea, I saw people by the roadside wrapped in blankets. "Something really terrible has happened", I thought as I headed on to the company's Suma head office.
Radio Kansai continued broadcasting without commercials. At the beginning there was no information available. Staff who had just survived came to the company and appeared on the programs. We also used information we received from staff who had phoned the company.
■People in charge of the disaster countermeasures headquarters
The company set up a disaster countermeasures headquarters. The company president was the head of the headquarters, but because he lived in Osaka, he couldn't get to the company, so, in reality those of us who were assembled set up the headquarters.
■People's safety and everyday information received from listeners
It just happened that one of our reporters who had been to a talk on the lessons learned from the Kagoshima flood disaster sponsored by Minaminihon Broadcasting company had just come off night shift. He proposed, 'How about broadcasting whereabouts and safety information?' We set up special telephone lines to receive requests on people's safety, and began receiving information requests from 8:00am. We prepared paper and made a note of names and other details which we passed on over the air. On the first day, most of the information was related to people's safety and whereabouts. As time passed, along with safety and whereabouts information, information about hospitals that could provide dialysis, gas leaks, water supply trucks and other information for daily life was also aired. We continued broadcasting day and night nonstop for 69 hours. Many volunteers came and helped with the work of endless reading of information. And the company president, who lived in Suita (Osaka Prefecture), after arriving at the company, took on the job of receiving telephone calls.
■Broadcasting from the center of the disaster hit area
There was information that couldn't be confirmed, so we paid attention not to broadcast odd or unfounded information. We wanted to broadcast information that would protect lives from the heart of the disaster hit area.
■Down to earth practical information
The reporter who had who had been to the site where the highway (Hanshin Highway) had collapsed read out the name of the company on each truck stuck on the highway and its license plate number. The apartment room numbers on the 1st floor of a condominium that had collapsed were also read out. There was no emotional, 'That's terrible' after each announcement. All we did was announce each piece of information as fact, and in detail one after the other in a composed manner.
■Being prepared for a disaster from now on
When a disaster happens, accurate information is required. To do this requires career experience and experience. However, I am worried that there are not many opportunities to become skillfully proficient in community radio stations.
We are a member of the Kinki group of JCBA (Japan Community Broadcasting Association).5~6 community stations in the area got together and signed an agreement to support each other when a disaster happens. The community radio station's strength is that it is familiar with the local area and community. It doesn't really matter what kind of program it broadcasts once the local people tune in and listen. I believe it is also important to build trust between the station and the local people.