I want to join AWEP・I want to hear your story
Learn about AWEP
We will hold a briefing session for those who would like to know about AWEP and those who would like to be a volunteer.
Date and Time:In principle on Wednesday afternoon
Place:AWEP Office
Joining fee:1,000yen (includes material fee)
Application:As a general rule, please inform the office of your desired date of participation, name and phone number by email at least 1 week in advance.(awep@tcc117.jp)Please let us know.
*If you would like to participate as a volunteer, please join this briefing session in advance.
*Even if a one-time volunteer at a weekend event will continue to be involved afterwards,
Please join this briefing session.
*If the said date and time does not suit you, please feel free to contact us on weeknights and Saturdays.
Volunteers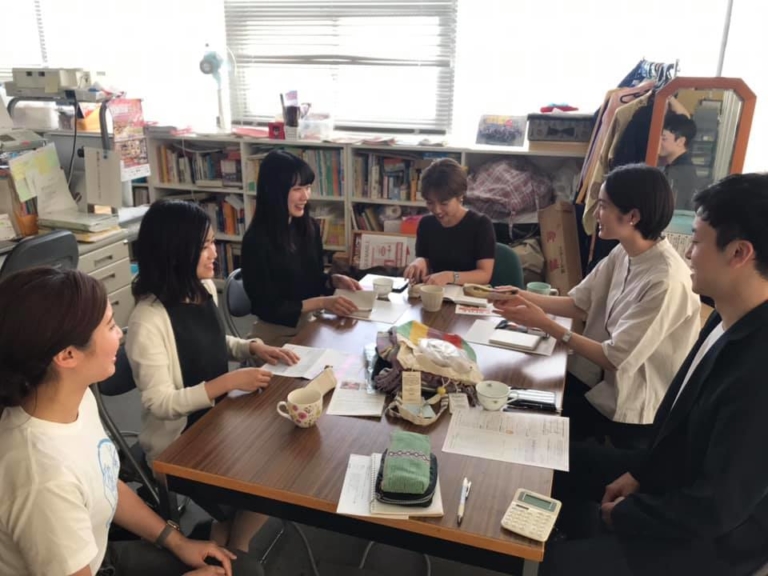 Office Volunteers
We are always in need of office volunteers.
We need assistance in fair trade product management, business operation, in public relations such as information dissemination on SNS, assistance in holding events and others. The main focus is on Weekday activities. We highly recommend it for people who can work diligently. Students, Retirees, Freelancers and all people from all ages may participate.
Event Volunteers
Events volunteers assist in sales, in holding events which are held mainly on weekends may enjoy communication with people through sales.
Join our Events
We hold a variety of events such as new arrivals' exhibitions, regular social action party( Fun Fan Party), meetings on our international project, etc.
For Internship and researchers
1. Who needs Internship/volunteer credits at University or Educational Institution
For those who want to do internship/volunteer work to earn credits at your University, and do need activity records and certificates for it, please contact us beforehand (078-734-3633). Indicate precisely which university course you are in, the motivations, time duration, your tasks, and your contact person at the university in documented form. We will contact you back to you with regard to your document and let you know the interview date.
2. For joining as our member
For those who do not need any certificate for University degree, but want to intern/ volunteer at AWEP, will be guided as written above. We will be expecting you to seeing at our events or office.
3. For your investigation and research purpose visit
Please let us know beforehand (078-734-3633). We cannot guarantee to reply back to you if only survey and questionnaire were sent to our post. You may want to join one of our briefing session.
Holding guest lecture
We hold lectures on topics related to Asian women, women's human rights, fair trade, women's independency program situation through fair trade, and so forth. Let us know for guest lecture offers.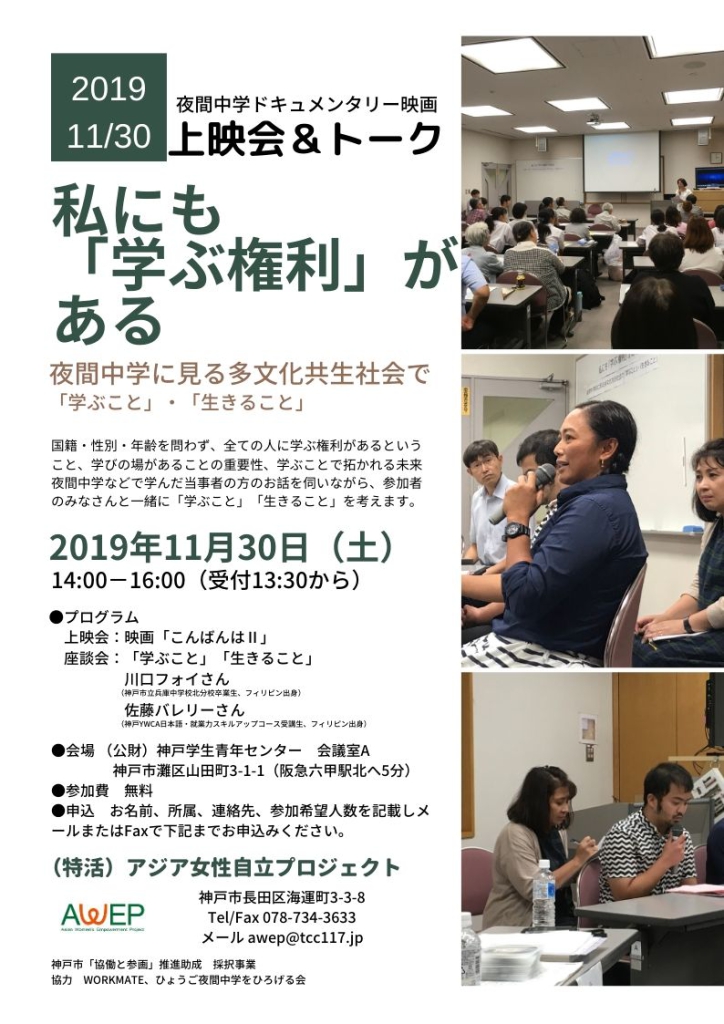 Lecturer
Masami Nara (AWEP representative, director)
Have hold lectures in relation to Asian women's human rights, gender issue, and fair trade.

Rika Sukigara (AWEP director, head of secretariat)
With experiences of consulting with Asian women living in Japan as AWEP's activity. Have legal insights as an official administrative scrivener.
For lecture requests, please contact us via awep@tcc117.jp


---